Other Websites
Below are links to other websites of interest for travellers to the Pantanal, and for people wanting to learn more about the places they are visiting.
Transport Services

The companies below provide passenger services in the Pantanal region. In many cases you can view scheduled services and make bookings online.

Busca Onibus (Bus Search)
This site offers an easy way to find scheduled bus services and prices for most locations within Brazil. The site contains details from multiple companies.


www.buscaonibus.com.br

Andorinha Bus Lines
This is one of the major bus companies in the Southern Pantanal (Mato Grosso do Sul) region. They provide services between most cities and towns - and even to the gate of several fazendas. You can book and pay online.


www.andorinha.com

Viação Motta Bus Lines
This is another of the major bus companies operating in the region. It also has online bookings.


www.motta.com.br

Vanzella Transportes
Tourist Bus services between Campo Grande airport and Bonito.


www.vanzellatransportes.com.br

Localiza Car Hire
The biggest care hire company in Latin America - with branches in many small cities and towns within the Pantanal region.


www.localiza.com

Trem do Pantanal
Passenger train service reintroduced in 2009 between Miranda, Aquidauana and Campo Grande. This is aimed at tourists with the service offering good views of the Pantanal. Although the railway line continues through into Corumbá (and Bolivia) these are freight-only. This site also offers several tour packages visiting Bonito or fishing in the Pantanal


www.pantanalexpress.com
Tour Companies and Accommodation

Trip Advisor
Useful site offering reviews and comments about tours and accommodation in the Pantanal region. Search on the name of the town or region you're travelling to.


www.tripadvisor.com

Refúgio Ecológico Caiman
Located near Miranda in Mato Grosso do Sul, this is one of the best known Fazendas for Pantanal tours, and has played host to several conservation programs.


caiman.com.br

BonitoWay
Tour and transport services for the Bonito region.


www.bonitoway.com.br

HI Bonito
Popular hostel for backpackers in Bonito. This site also contains a wealth of other information for transport and activities. HI Bonito operates its own daily transport services between Campo Grande and Bonito.


www.ajbonito.com.br/ingles/
Conservation in the Pantanal

Waterland Research Institute
Summary of research and findings presented at the World Conference on Preservation and Sustainable Development in the Pantanal in 1999. This site contains is a wealth of technical and conservation information about the Pantanal.


www.pantanal.org/pantanal.htm

Conservation International
CI is leading many global conservation projects, including some in the Cerrado which provides much of the water into the Pantanal.


www.conservation.org

World Wildlife Fund
WWF have been active in conservation within the Pantanal for decades. This includes programs to raise environmental awareness, sustainability and reduce habitat destruction.


www.panda.org

Pantanal Jaguar Project
Although aimed primarily at Jaguars, this project aims to reduce the fragmentation of the Pantanal (currently about 2,500 farms with fences). The project is working with local ranchers to build safe corridors which still allow wildlife to roam and migrate freely through the region.


www.panthera.org

Projeto Arara Azul
This is one of the great conservation successes of the Pantanal. The Blue Hyacinth macaw (Arara Azul) is the largest and (in our opinion) the most spectacular of all parrot species. Sadly, by the 1980s, habitat destruction and smuggling for the pet trade meant that were only about 1500 birds left. However, by protecting habitat and increasing nesting locations, this project has increased the population to more than 5,000 birds.


www.projetoararaazul.org.br

Report on Impact of Hidrovia Project to the Pantanal
Text of a report summarizing the negative impacts of the Hidrovia project on the environment and wildlife of the Pantanal.


www.bluemacaws.org/pantart2.htm
Other Travel Info Websites

Amazon Escapes
Our sister website containing travel info for visitors to the Amazon region. Still in development.


www.amazon-escapes.com

Brazilian Escapes
Our sister website containing travel info for visitors to other Brazilian locations. Still in development.


www.brazilian-escapes.com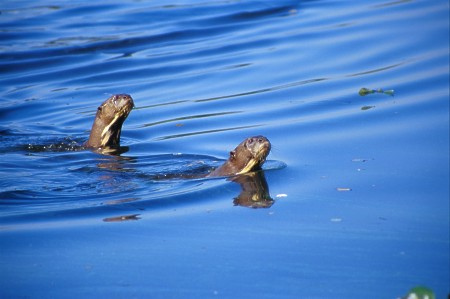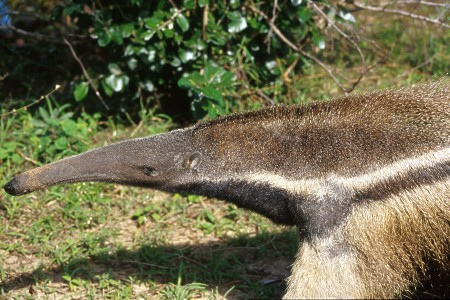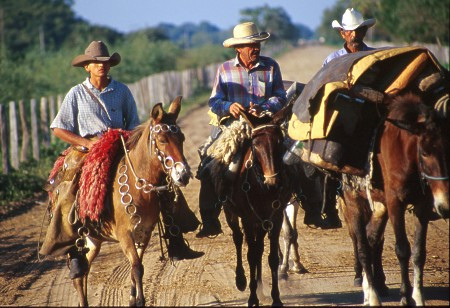 Photo Credits: Spectacled Caiman (Shutterstock/Dirk Ercken)